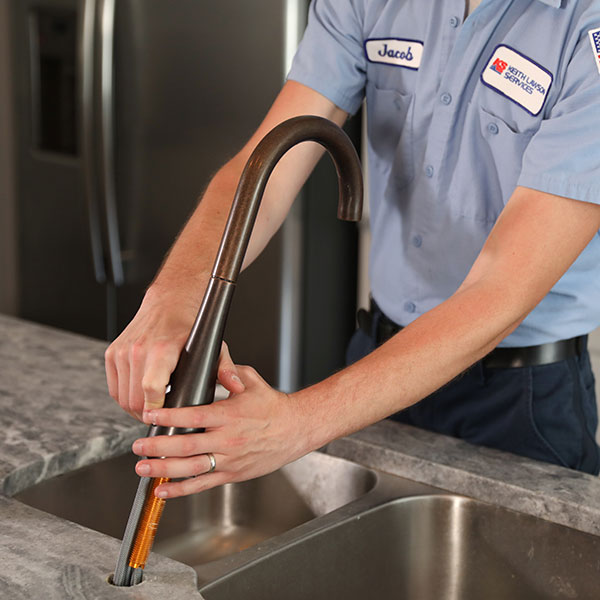 Our Experts Can Fix Everything
Keith Lawson Services has offered outstanding plumbing services to the Tallahassee area with integrity and skill since 1980. We deliver responsive, friendly, and competent services to our valued customers for all things plumbing. We also offer full customized bathroom remodeling services. Our plumbers evaluate your entire system and are happy to make recommendations on energy efficiency as well. From tankless water heaters and septic to sewer conversions, to a simple leaking faucet or clogged drain, we can take care of it all!
Plumbing & Drain Services
Whether the problem is large or small — KLS will make it right the first time! Look at a few of the plumbing services we offer and give us a call or request a service online. If this is an emergency, please call 850-562-2600.
We offer flat rate pricing, so you know the cost of a service before we start, and there are no surprise charges or fees. We developed our rates after compiling data on thousands of jobs, basing them on the time it typically takes for a fully trained plumbing technician with the latest tools to arrive on location, diagnose the issue, and repair it. After an initial diagnostic inspection, in most cases we can give you a firm price before any work is started. This price includes everything — all labor, parts, miscellaneous materials, and parts acquisition time, if any. The bottom line: you are in control of the service cost every step of the way.
Not only can we use electronic leak detection to ensure your water isn't being wasted and you avoid costly concrete slab repairs, but our team can also install energy efficient appliances, like a tankless water heater, to reduce your energy bills overall. We can also help you maximize your federal, state, and local rebates to save even more! Click below for the latest information on Federal Energy Efficiency Tax Credits and City of Tallahassee Rebates.
We proudly install products from Delta, Moen, and American Standard, but our skilled plumbing technicians can service all different types of kitchen and bathroom fixtures, appliances, sewer systems, pipes, and drains.
We know your plumbing systems are an important part of your home or business, and that you depend on them every day. We offer professional equipment maintenance to keep your appliances, fixtures, and drains running in top condition before a problem occurs. We also offer Red Carpet Service Agreements, which not only give you priority service if you do have an emergency, but also include a free plumbing diagnostic once a year. Protect your system with one of our service agreements today.
Save on Energy Costs with the GE Hybrid Water Heater
Residential electric water heaters are the second highest energy users in U.S. households, behind air heating and cooling systems. GE's Hybrid water heater can save this energy and reduce operating costs by up to 62%. This new water heater is ENERGY STAR® qualified, and it combines advanced heat pump technology and traditional electric elements to maximize energy efficiency and save you money on your bills every month. Click to learn more about this cost-saving appliance or call us for a quote.